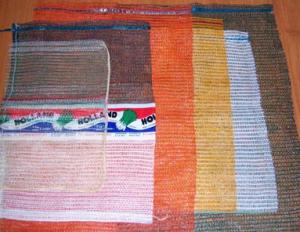 Product Description
RASCHEL KNITTED BAGS
Colour: orange, golden yellow, white, brown, maroon, and red, etc..
Size: as per customers' requirements
Knitted type: normal knitted, close knitted, very closed knitted
Drawstring: blue soft drawstring, black braided drawtape
Label: with/without
Packing: 1,000-3,000pcs per bale
Use: widely applied in automobile, machinery, fruit, vegetable and seafood industrials.Raschel bags have a soft feel and are less abrasive to contents. They are produced with or without drawtape in a variety of colors. High graphic pre-printed labels can also be laminated to the bags. Consumer size packages in 5 lb. And 10 lb. Sizes are very popular.
Uses: Citrus, onions, garlic, seafood, firewood. Baler bags. Fabric for shade cloth.
Sizes: 5 lb., 10 lb., 25 lb., and 50 lb.