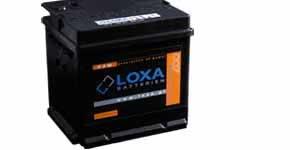 The application of the advanced production technology and new achievements of the scientific research permits us to manufacture special batteries ,safe and easy in use, unfailing even under the extreme conditions.
The batteries with the brand "LOXA" represent a wide capacity range and are produced in order to satisfy the most demanding requirements of our Partners.
Batteries factory LOXA Sp.z o.o. manufactures starter lead-acid batteries with the capacity from 36Ah to 230Ah for a wide range of vehicles and agricultural machinery. The batteries with the brand "LOXA" are the result of the long-term scrupulous work of engineers, technologists and economists. We apply only technologically advanced equipment and the scientific researches verified by the time.
All the processes of battery production are carried out on the machinery of such reliable and reputable companies as "SOVEMA", "WIRTZ", "ENTEK", "TEKMAX". The batteries produced at our factory are first of all characterized by safety and long life, their top quality is proved by Quality Administration System according to EN ISO 9001:2000 standards.
High quality and rich experience in starter batteries production are our capital which permitted us to merit the esteem and trust of our Clients and Partners, the leading companies on the Polish automotive market.