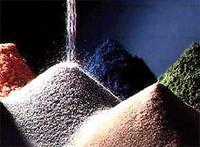 Ever since the beginning of its dyeing extract production, the Plast Market Sp. z o.o. company has used an entire array of pigments purchased from renowned and tested suppliers. Wishing to share its many years' experience, it has included in its offer properly selected organic and nonorganic pigments for dyeing thermoplastics and paints. All of them meet the requirements of the 94/62/EC Directive. All shipments are subject to laboratory inspection.
Packaging
* retailed 5 kg foil bags
* industrial 10, 20 or 25 kg paper or foil bags
The benefits of application:
* Good compatibility with plastic
* High saturation of color
* Little doses
* Allowed to come into contact with food
* Low cost of application
Dosage:
The dosing depends on the thickness of a dyed piece and the kind of plastic and fillers used. For typical applications, from 0.05 to 1% of the polymer mass is used.